80,000 m² of surface, over three sites along the Meuse and the Albert Canal, dedicated to the storage, loading and unloading of goods.
Three docks upstream and downstream of Liège, with easy access to major highways (E40, E42) provide a positive solution to transport and storage concerns.

Mategro is also active in the port handling sector. Three cranes distributed between Herstal and Argenteau make it possible to load and unload various goods on river and sea vessels as well as transshipment.
Herstal
Located between the Meuse and the Albert Canal, the main and administrative site of Herstal is ideally located near the highways and main roads.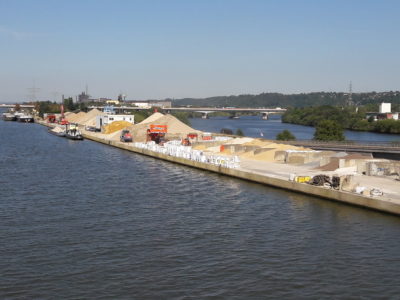 TOTAL STORAGE AREA: 12,700 m²
TOTAL DOCK LENGTH: 435 m
Argenteau
Along the Meuse for 840 meters, it logically facilitates any handling and storage activity, in addition to the supply of usual products.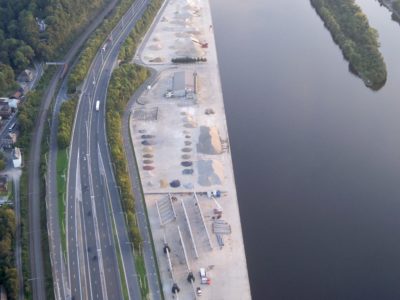 TOTAL STORAGE AREA: 63,500 m²
TOTAL DOCK LENGTH: 840 m
Val St Lambert
Astucieusement situé de l'autre côté de Liège, il permet aux clients de la région de venir se fournir sans avoir à traverser la ville pour se rendre sur le site de Herstal.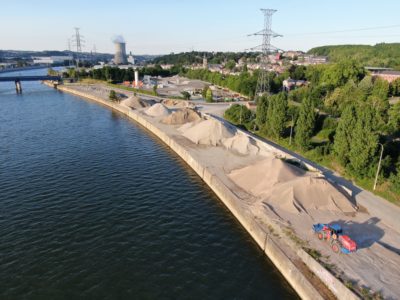 SUPERFICIE TOTALE DE STOCKAGE : 5.800 m²
LONGUEUR TOTALE DE QUAI : 180 m
Mategro est équipé de matériel complet pour la manutention du vrac comme des bigbags. Trémies et Bobcat permettent de moduler le remplissage des bigbags (petits ou grands) selon la quantité désirée et le type de matériaux (sables, graviers et galets ou rochers à gabions). Enfin, le Merlo assure le chargement des camions citernes et destinés au soufflage de graviers pour le lestage de toitures par exemple.